Food Label Printing Company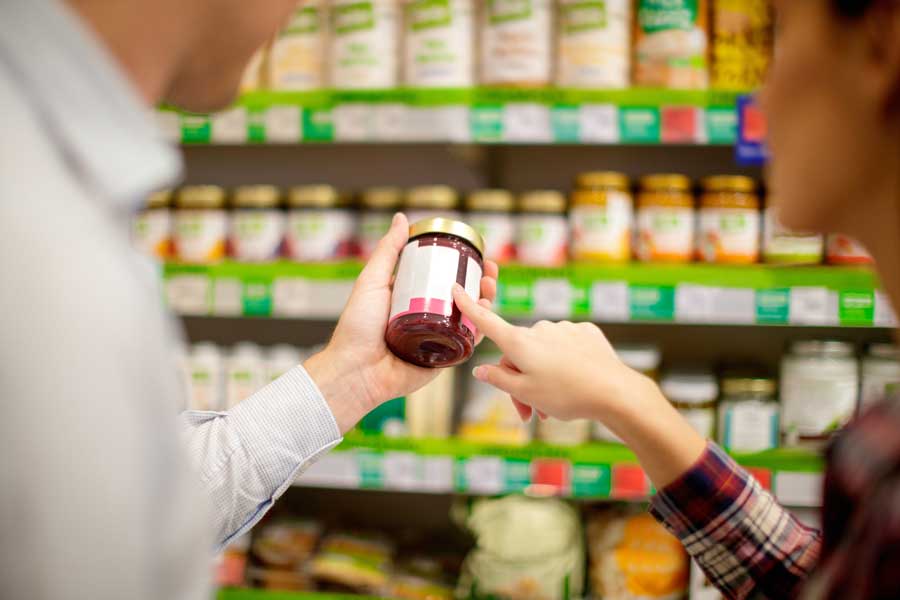 Custom Food Label Printing
The first job of a quality custom food label is to help your food product stand out on store shelves. Secondly, the label design must communicate your branding and accurately describe the product inside. Finally, a food packaging label must clearly provide all legally required information. These requirements are doubly important when it comes to custom labels for food packaging.
As a food company, your products need labels that can stand up to the unique food packaging experiences. Labels from custom label manufacturers must be durable enough to last through the shipping and stocking processes, after the consumer has purchased and stored your product, and on through the end of your product's shelf life. Since such wear often includes standing up to moisture or extreme hot and cold temperatures, choosing a long-lasting sturdy label is of the utmost importance.
Choosing a Type of Custom Food Label
Food labels require strict government-compliant nutrition fact panels. These labels are designed to withstand heat, cold, and moisture, and can be printed on a variety of packaging. Royal Label can help you choose the best look for your customized food label including gloss labels, matte labels, and metallic labels, as well as the adhesive to ensure the label lasts the life of the product.
Flexographic label printing has many advantages. It is a cost-effective option for large print runs with a variety of label inks including water-based inks, florescent inks, metallic inks, and UV-curable inks.
Digital label printing on the other hand is designed for high-quality, small-batch label printing. Digital printing allows for multiple SKUs and no big set up cost. These labels are perfect if you have multiple products you need high-quality labels for.
We Print Labels for All Types of Packaging
It is important to consider what type of product your food label will be placed on. Royal Label can make labels for a variety of products including jars, plastic containers, glass bottles, cans, plastic bags, and paper packaging. Our design team can even help create eye-catching designs for custom bottle labels. This is particularly helpful for wine and craft beer labels which are products that need a lot of shelf appeal to stand out. We will work with you to determine the best way to showcase your brand's message and design a unique label that practically jumps off the shelf at consumers.
What Information Is Required on a Custom Food Label?
The FDA requires all food and beverage products to have a nutrition facts label. The label must show a comprehensive ingredient list as well as accurate nutritional facts, such as serving size, calories and nutrients, active ingredients, and common allergens. In addition, nutritional information must be displayed in the correct format.
Once you've obtained all the proper nutritional information for your product, we can help you ensure it is arranged in the correct format to satisfy FDA requirements. These can vary depending on the type of product you're manufacturing. That's why it's important to ensure you meet FDA guidelines before printing.
However, in addition to regulations, it is important that your product labels appear attractive and accurately depict your brand's message. Our experts can assist you in designing an eye-catching label that meets all FDA requirements. Our flexographic and digital label printing processes can be customized to meet your exact needs.
Let Us Help You Print Your Custom Label
At Royal Label, we are a custom label company that believes that collaboration is the best way to design a beautiful and FDA-compliant label. That's why we take the time to ensure that our customers get precisely what they need. Our in-house art department will work with you until the ideal label is created.
To learn more about how Royal Label can meet your food label needs or to place an order, contact us today.
Get A Quote
Royal's processes are built from a foundation of over 60 years of experience and hundreds of customer audits. We look forward to working with your QA team.