Quality Label Printing Since 1959
Located in the heart of Boston, Massachusetts, Royal Label has been providing companies, such as Johnson & Johnson, Philips Healthcare, Nova Biomedical, Boston Beer and Bose, with digital, flexographic and silkscreened labels since 1959.
Royal Label Printing Company
As a second-generation, family-owned business, Royal Label understands the importance of combining superior customer service with the latest technology and high-quality label printing to maintain strong relationships with our clientele. We have learned to accommodate every order in our 60 years in business, whether for 100 labels or more than a million. We are known for our fast turnaround time and zero defects that our clients like Bose, Boston Beer, Johnson & Johnson, and more, have come to rely on.
We are industry leaders, so we take all technological advances seriously, including those that benefit our environmental footprint. For that reason, Royal Label has gone completely solar-powered. Clean energy options will carry us into the future as a competitive label printing company that businesses turn to when they need quality digital, flexographic, and silkscreened labels for all types of industries. Take a look at the types of custom label printing we accommodate, including pharmaceutical, medical, and industrial: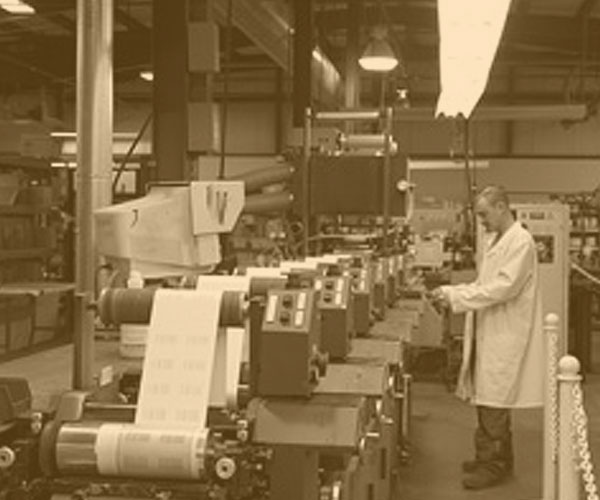 Custom Product Labels
Royal Label is the company consumer-focused businesses turn to when they need labels that accurately represent their products and market their brand. Whether you need labels for food, beverage, retail items, or industry-specific products such as cannabis labels and those for beauty and personal care items, Royal Label can help.
Trust us to deliver the essential information you need to include on your labels while providing an attractive aesthetic that gets your customers' attention and sells your product. With emerging markets like start-ups, cannabis dispensaries, and breweries, you need a product label printing company that has stood the test of time by evolving to meet their client's changing needs.
Pharmaceutical and Medical Device Labels
Proper labeling is essential for pharmaceutical companies, as incorrect dosage or warnings could be disastrous for consumers. Pharmaceuticals have turned to Royal Label for years to meet their stringent requirements. Our dedication to customer service and zero-defect policy has led to our reputation as the best in the industry. Medical device labeling is equally important, as medical professionals and patients alike must be well-informed on the proper way to use the devices that maintain their health. The high-quality labels and graphics that we create for medical devices prevent misuse and protect the well-being of patients who rely on them. Our labels meet all Food and Drug Administration (FDA) regulations for written, printed, and graphic elements that make up our medical device labels.
Industrial Labels
In an industrial setting, it is vital to ensure your labels will stand up to the test of time. Our flexographic and silkscreened labels are ideal for industrial applications because they are durable and can stand up to the elements. Silkscreen labels especially are a popular choice because they can withstand extreme conditions. These heavy-duty labels can be stored outside, submerged underwater, and washed.
Industrial labels can withstand chemical and physical abrasions, as well as exposure to the sun. Flexographic labels are a cost-effective option that is perfect for large runs that need to be produced quickly to meet lead times. Our sheet and roll labels are ideal for multiple uses, as we specially formulate the ink, substrate, and adhesive to ensure the maximum performance of your industrial labels.
Compliance and Barcode Labels
When you need to meet safety requirements to ensure the viability of your tools, products, and devices on today's market, Royal Label can help. We provide Canadian Standards Association (CSA) labels, UL certified labels, and Restrictions of Hazardous Substances (ROHS) labels to our various clients. We also have GS1 barcode labels to improve supply chain visibility and efficiency and provide GS1-128 labels that further identify your products' specifics.
Trust Royal Label With All of Your Label Printing Needs
No matter how big or small your businesses' needs are, you can trust Royal Label as your printing partner to handle the job and exceed your expectations. The digital label printing services we offer our clientele saves them time and money and provides them with a label that is consistent with their brand. Royal Label is your expert label printing company in Boston that customers have relied on since 1959.
Our Label Printing Capabilities
Prepress
Our in-house art department can design a custom label that meets your exact application. Our prepress printing services include working with your existing files or assisting in setting copy.
Digital
Highest Quality, Up to 7-Color Printing. Ideal for short runs, variable data, multiple SKUs digital label printers High quality, tight registration and true just in time digitally printed labels.
Flexographic
Ideal for long run flexographic label printing. Flexographic label printing process utilizes water-based and UV inks at higher press speeds than digital printing – a more competitive price point for larger runs.
Silkscreen
Silkscreen labels are ideal for those applications that require your label to withstand repeated washings / sterilizations or the outdoors (sun, rain, etc.). Doesn't fade with time.
IFU's
Validated Information For Use printing services are available to meet your product and packaging challenges for medical instruments and devices.
Customer Testimonials
New England Biolabs' goal with the design of the Monarch Purification product line was to offer scientific researchers a more sustainable alternative to their current laboratory purification kits. Care was taken in every detail of the kit design to minimize environmental impact – from reducing the amount of plastic used in the kits to selecting 100% post-consumer waste-based boxes to choosing recycled label stock. The ability to source high quality, post-consumer waste label stock from Royal Label helped us to achieve our goal of designing a more sustainable product line without sacrificing durability and integrity, both especially important in the laboratory setting.