Digital Label Printing for Cosmetic, Beauty, & Personal Care
In an increasingly globalized marketplace, consumers have more choices than ever. This especially applies to health and beauty products, where it is becoming more difficult for companies to get their products noticed on well-stocked store shelves. The professionals at Royal Label can help you create health, beauty, and personal care packaging that speaks to your target customer, while providing the industry-recognized quality you can trust. Whether you want to allure customers with your organic and eco-friendly products or appeal to a prospect's sense of glamour, our full array of cosmetic labeling services can help.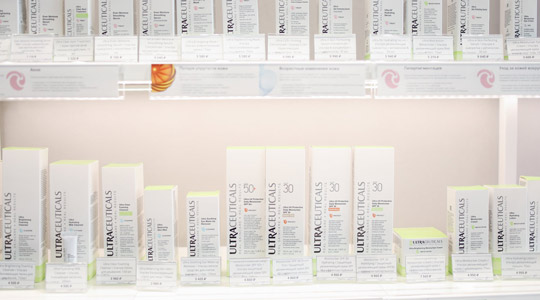 Labeling for Cosmetic Products
At Royal Label, we understand the complex processes and ingredients that may affect your makeup packaging labels. Companies may require labels for ridged containers like jars, while also using flexible options like tubes. The materials inherent in each may pose unique challenges in printing and application.
The professionals at Royal Label can help design and print custom cosmetic labels with the appropriate color management and integrity in mind. We work to preserve your unique brand across several different types of containers, including varying textures and shapes. This requires an in-depth knowledge of the types of labels and adhesives that work best for the container in question. Royal Label works to create the best end to end solution.
High-Quality Labels for Beauty Products
Beauty products come in a variety of shapes and sizes; trial and travel sizes are becoming more popular. With that in mind, companies want consumers to have their favorite products on the go, while also giving prospective customers a chance to try and fall in love with their brand. Ingredients like alcohol and essential oils can affect the integrity of travel-size sachets and packets. Royal Label has extensive experience in producing the high end feel for beauty products.
Skincare Product Labels for Your Business
Skincare products often contain ingredients like emollients, that can lead to smudging or discoloration if you don't use the proper varnish or material. We can help you create a cost-effective solution to ensure a lasting, high quality label for your skincare products. But Royal Label can help you create custom product labels that conveys to your customers exactly what differentiates you from the competition.
Color Integrity for Your Personal Care Product Labels
Like other health and beauty products, the intricate production processes and ingredients in personal care products like shampoo and conditioner may affect the packaging and labeling. Shampoo bottle and conditioner labels require careful consideration and planning. Your business may require different labels for different product lines, including trial and travel sizes, spray bottles, tubes, and other forms of packaging. Trust our expertise to deliver your branded message on budget.
The professionals at Royal Label understand the complex processes required to achieve high-quality labeling for personal care products. We can help you create, design, and print labels that are long-lasting and withstand environmental extremes like heat and moisture. We work to create the best solution for your personal care packaging, no matter what container your product comes in.
Where to Print Digital Labels for Your Health and Beauty Products
Royal Label understands how important quality digitals labels are for differentiating your cosmetic, beauty and personal care products. We carry a large selection of custom label products so your label can fit perfectly on your container and convey your company's message. Labeling is an important aspect of marketing your personal care products as well as informing customers of the products intended use and related warnings. Our label printing operating procedures include:
Documented processes. Our standard of practice includes documentation at every step, from order entry to shipping.
Lot segregation. We segregate in all areas of production, from line clearance procedure, process quarantine, and locked cages, all to preserve the integrity of your product and labeling per GMP guidelines.
Revision control and zero defects. Our robust internal processes help assure the conformation of labels to your operation. Our defect management software automatically identifies and rectifies issues from registration, misprints, smudges or scratches, and missing labels.
Extreme temperature hardiness. Our labels work to meet your application.
Royal Label's printing and labeling processes come as a result of our 65+ years of experience and dedication to quality assurance. We are continually reassessing our processes and investing in state-of-the-art technology to serve our customers better. No matter what type of beauty product or label you require, we can help design a label and adhesive that fits your needs.
Best Custom Product Label Printing Company Boston, MA
Royal Label will work with you to design, print, and implement your personal care product labels, so you stand out on the shelf. We have experienced custom label designers on staff to help you get the look you want at the right price. It's more than a label; it's your brand! For more information about scheduling an audit of our facility or how we can help you meet your medical labeling needs, please call Marychristine Clifford at 1-617-825-6050 Ext. 105 or send an email to [email protected].
Get A Quote
Royal's processes are built from a foundation of over 60 years of experience and hundreds of customer audits. We look forward to working with your QA team.