Custom Printed Labels for Retail Applications
Label durability in high color and quality for retail products.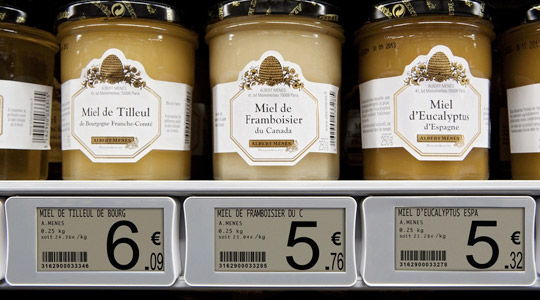 Retail and Consumer Product Labels
Retail Product Labeling
Labels are one of the most critical aspects of the consumer products industry. They communicate important information about specific products, as well as brand messaging. In some cases, labels act as a safety precaution, notifying consumers of a product that has been tampered with. And, perhaps most importantly, consumer labels – when done correctly – can be the reason a customer chooses one brand over another. It is important to keep these key duties in mind when creating labels for household and consumer products.
If you are in need of impactful label designs for your business' products, Royal Label can help. Our expert team can create beautiful custom designs that will effectively communicate important information as well as your brand's messaging.
Communicating Through Labels
To achieve efficient household product labeling, you must deliver eye-catching label designs in addition to providing thorough instructions about how to use the product. It isn't wise to cram paragraphs for instructional or warning material onto a label – a successful label possesses tactfully placed information. For instance, a brand can achieve effective communication by placing pertinent information on the back portion of a label in the form of a peel-out page. Though placement is important, the way that a label communicates via writing is just as crucial. This means avoiding complicated branding and consumer information and instead including simplified, readable text.
Taking the time to incorporate accurate precautionary information and general instructions into your label prevents improper use of the product. It's important to provide thorough guidelines that directly tell the consumer how to use the product (as well as how not to use it). This helps to prevent product-related accidents.
In some cases, incorporating security-related information into a label is even more important than branding. Tamper-evident labels are one way to notify the consumer if a specific product was previously altered in some way. These labels display irreversible physical evidence, such as damage to the label itself – or a "void" mark where the label used to be – if someone tampered with the product before it was sold.
Durable Labels for Household Products
All products require durable labels that can withstand wear-and-tear. Many poorly-made labels peel off, dissolve, or dry out in different weather conditions. The ideal label looks great, reads well, and can withstand being dropped into a tub of water or left out in the sun all day.
The durability of any label should match the longevity of the product itself. Several protective measures address this necessity in the label-making process. Over-lamination is one method that Royal Label utilizes to increase the durability of its labels. This process involves coating each label in a protective film that is either glossy, matte, or textured. Over-varnishing achieves the same effect by applying a thin layer of silicon to the label. Both of these methods protect the printed graphics.
Consumer Label Printing Options
The best label printing company will create products that look great and thoroughly communicate information. By utilizing our custom digital label printing services, you will receive a label that complements your product perfectly. Royal Label's printing process utilizes various high-quality materials and methods. The materials used vary based on the client's specific labeling needs, but all fall under the UL/CSA/ROHS approved standards. Digital printing at Royal Label allows for fine detail in labeling characteristics like barcodes and small fonts. This precise detail allows the client to include more information on their digital labels.
Flexographic labeling is another printing service that Royal Label provides. It uses water-based, UV inks that print at higher speeds than standard digital printing. This allows for a larger quantity of labels to be produced at once. Label rolls and sheets can also be produced with this printing method, which aids in automatic application and thermal transfers.
Create a Unique Label for Your Brand
It is essential to make your product's labeling stand out amongst your competitors, as you want your brand to be the first that a customer approaches when walking through a store aisle. Royal Label provides high-quality consumer and household printing services that ensure your custom label is attention-grabbing.
Before we begin work on your custom label, we will sit down with you to discuss your labeling needs and preexisting branding preferences (such as your color scheme). During the initial consultation, we will also determine the best label materials, printing method, and packaging options for you. Then, we will create a custom label design that fits your specific needs.
We will work with you every step of the way to make sure your label turns out exactly as you imagined. Our expert team will also be there to provide helpful tips and feedback.
If you need eye-catching, effective household and consumer product labels, Royal Label can help. Reach out to us by contacting Marychristine Clifford at (617) 825-6050 (extension 105) or via email at [email protected]
Get A Quote
Royal's processes are built from a foundation of over 60 years of experience and hundreds of customer audits. We look forward to working with your QA team.