Custom Labels for Consumer Products, Food & Beverages,
Medical Devices and Much More
Highest quality consumer product label printing for your strategic branding efforts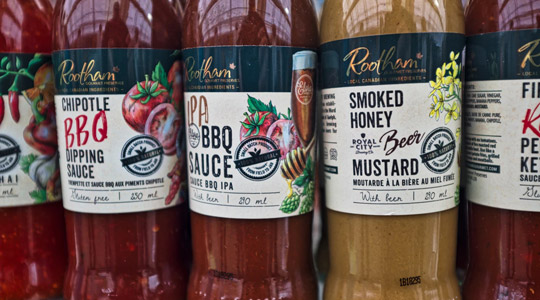 Are you interested in taking your new business to the next level? If so, the easiest and most effective way to ensure consumers recognize and remember your brand is by creating custom product labels. Designed to communicate essential information in retail and online settings, consumer labels are the first impression your brand offers to potential consumers.
Clear, concise, and accurate labels allow consumers to make informed purchase decisions, while unique aesthetics allow your brand to shine. This becomes especially important when promoting emerging consumer product markets, including breweries, cannabis dispensaries, start-ups, and medical device companies. As these industries become more prevalent, they provide a distinct set of opportunities and challenges for branding and packaging. Stay ahead of the competition with Royal Label, a local label printing company in Boston with over 60 years of experience.
Royal Label Custom Label Printing Allows for Creative Brand Expression
Once you've made the decision to focus on producing distinctive consumer labels for your products, you may be tempted to use a quick-print service website to meet your needs. However, these sites are ultimately not worth the investment. They use generic templates that allow for very little creative freedom, meaning your product is likely to be indistinguishable from the competition sitting next to it on the shelves. By employing a custom label printing company, you get complete creative control in designing your product packaging.
Wouldn't you like your labels to be as innovative as your products? You simply envision your own unique design, and Royal Label will take it from concept to reality. In everything from food and beverages to beauty and wellness supplements and even pharmaceuticals, the success of your product can depend greatly on the aesthetic appeal of its labels. In our social media-obsessed world, consumers are increasingly conscious of not only how a product functions, but how attractive it looks in their homes and Instagram feeds. Our products fulfill both of these necessities in a variety of fields, including food and beverage production and cosmetics.
The degree of inventiveness offered by creative custom labels is particularly rewarded in the craft beer industry, as well as the fast-growing cannabis industry. This recently decriminalized market comes with its own set of challenges. Because federal and state laws require cannabis product warnings to all look identical, this can majorly detract from your branding style.
Using digital label printing to generate custom labels for bottles means you can guarantee that consumers are able to quickly and easily find your products and distinguish them from those of the competition. As these guidelines are likely to change as more states become cannabis-friendly, you can rest assured knowing Royal Label is ready and able to adapt to these future changes.
Custom Product Labeling CAN Be Cost-Effective with Royal Label
With many emerging companies operating on tight budgets, some businesses may mistakenly believe custom printing is too expensive. However, the desire for an exceptional product does not have to conflict with the need to be cost-effective. Royal Label offers high-quality digitally printed labels in short runs at a reasonable cost – no more being forced to order thousands of labels at a time.
Because digital printing eliminates the requirement to develop film and plates, this ultimately saves you a substantial amount of time and money. We use four-color process printing, which applies successive layers of cyan, magenta, yellow, and black inks, leaving you with perfect image registration, consistently vibrant color, and crisp details.
Our ability to quickly print custom labels that require close attention to detail also provides a great degree of flexibility. With Royal Label, you can order 1,000 custom labels with each one containing a different set of information. This flexibility is especially crucial for products that are similar but have different types, meaning you need several versions of the same label. Such labeling is common in beer and cannabis companies, as they prefer a streamlined look among products, but at the same time require some uniqueness to differentiate among various styles and strains. This customized form of digital printing is also very useful when creating labels for products containing multiple SKUs, multiple barcodes, or consecutive numbers.
Royal Label Uses Printing Technologies Generic Label Printing Sites Don't Have
In addition to the four-color process digital printing, Royal Label uses several other technologies unmatched by generic printing websites services. For larger runs, a technique called flexographic label printing process uses water-based and UV inks to print labels at a higher press speed than digital printing. Our in-house art department designs the plates. Up to seven colors are offered in this process, along with custom color matching. Sheet or roll labels are also available for automatic application or use in thermal transfer printers.
If your company produces medical devices or industrial equipment, then our silkscreen labels are the perfect fit for you. They are created by using a treated screen that transfers durable ink directly onto the surface, meaning they will last the lifetime of your product even with rigorous use. These labels can withstand repeated washings or sterilizations, exposure to the sun and other elements (rain, humidity, etc.), physical and chemical abrasions, and high temperatures. They do not fade with time and are used in a variety of applications, both commercial and industrial.
Minimize Errors & Decrease Production Time with Royal Label
Royal Label uses top-of-the-line technology to produce the highest quality, zero-defect labels. We combine our cutting-edge print capabilities with 60 years of experience, dedication, and unparalleled customer service. With 100% computerized inspections, our printing process has been streamlined to cut down on production time and minimize errors. Whether you choose digital, flexographic, or silkscreen printing, 100 labels or one million, you can be confident that our products hold the highest of standards and will ultimately make a significant impact on your ability to reach consumers.
Choose Royal Label for a Superior Custom Label Printing Solution
When quality matters, choose Royal Label. As a second-generation owned and operated family business located in the heart of Boston, this affordable label printing company has been creating consumer labels for a number of major companies since 1959, including Johnson & Johnson, Philips Healthcare, Nova Biomedical, and Bose. We will work with you and your new company to print your custom consumer labels and assure your brand stands out among the competition, no matter what you're selling. If you're ready to work with the best custom label manufacturers in the area, contact us now.
For more information about scheduling an audit of our facility or how we can help you meet your medical labeling needs, please call Marychristine Clifford at 1-617-825-6050 Ext. 105 or send email to [email protected].
Get A Quote
Royal's processes are built from a foundation of over 60 years of experience and hundreds of customer audits. We look forward to working with your QA team.