Cannabis Packaging Gets a Branding Upgrade
Royal Label
A decade ago, when you heard about cannabis, you probably pictured packaging that was reminiscent of Bob Marley, the Jamaican flag, or tie-dye. But now, cannabis is much more than the stoner drug of the 70s. Today, cannabis is being used for medical reasons for a diverse clientele, and cannabis brands are stepping up their branding game to stand out.
Why the Upgrade?
The Washington Post recently pointed out that over half of the population of the United States can now legally smoke cannabis for medical reasons, and eight states have even legalized the drug for recreational use. Naturally, with legalization, a lot more people are discovering the benefits the drug can provide for all types of ailments. In fact, in 2016, the cannabis market reported $6.7 billion in revenue, and this is expected to surpass $20 billion by 2021.
Clearly, a lot more people are taking advantage of cannabis than the "stoner" population and brands need a way to stand out. Everyone from executives to parents are entering medical dispensaries to improve the health of a loved one, and cannabis companies are looking for a way to resonate with the higher-end clientele.
What Are Designers Doing?
So what kinds of features comprise upscale cannabis packaging? Every design company has a different idea, and the exciting thing is, they get to pave the way for the industry. While beer and wine and even chocolate already have specific looks for their high-end selections, cannabis has yet to reach this clientele in the mass market. As such, designers are emulating designs of products found in Starbucks or Whole Foods, with simple designs, sleek appearances, and none of the Bob Marley-esque details. They are using sophisticated font styles and simple color palettes, always keeping their more affluent client in mind.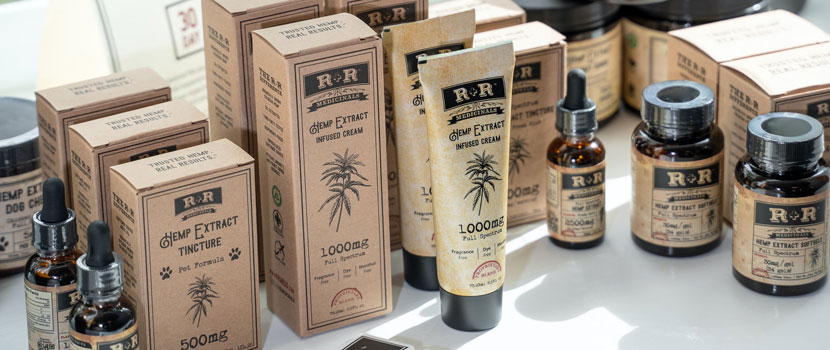 To Use the Leaf or Not?
So are cannabis companies still integrating the iconic marijuana leaf onto their packaging? The general verdict is that the leaf is important because it lets the user know there is THC within the product, yet it should be treated as an icon, not a logo. Similar to how gluten free and vegan products are simply labeled by a common symbol, the leaf should do the same for cannabis. It does need to be clear the contents are medicated, and that is the most widely recognized symbol for the drug, but it shouldn't be the primary focus of the company's branding strategy.
The cannabis industry is growing up, and if companies want to compete, they need to elevate their branding to appeal to the new demographic. This is just the beginning of the upgrade for the cannabis industry, and it will be exciting to see where it goes.
At Royal Label, we can take your masterful design and bring it to life. We specialize in providing 100% accurate labeling services for the cannabis industry. We take the extra steps in the printing process to ensure every label looks exceptional while remaining compliant. From documenting every detail to providing fully computerized inspections to making sure there are no errors, you won't find a better printing partner for your cannabis brand than us. To learn more about how we can help you elevate your branding while following all of the stringent regulations, contact us today.