The Complete Guide to Beautiful Die-Cut Label Printing
Royal Label
If you have used labels at work or have simply shopped for groceries, you have likely encountered custom die-cut labels. When you operate a business within any industry, it is vital to have the best die-cut labels to fit the needs of your operations. Consider the following essential details of die-cut label printing.
Die-Cut Label Basics
Die-cut labels are used by businesses to put their professional label on their merchandise. The concept of die-cutting came about during the industrial revolution as an effective way to cut fabric, leather, and rubber in a specific pattern. Kiss-cutting is the modern approach to cutting through a single layer of laminate on a label in patterns ranging from simple squares and circles to more brand-specific designs.
The die-cut label printing process is commonly performed on a rotary press, where gears turn a cylindrical die that cuts a long sheet of material as it moves through the press. The speed at which the die rotates allows for the cutting to be done in combination with printing, continuously repeating the image. There is a slower up-and-down technique called flat-bed die-cutting, but this procedure is not used as frequently. This process is commonly found in production lines, making this machine very industry specific.
Die-cutting is standard in label production due to the great variety of applications in which the labels can be used. They are made with a shaped cutting tool, almost like a cookie-cutter, to slice through the label material. The result is a product with rounded corners that are less likely to catch on things than square-cornered labels. These are the most common labels produced and sold today.
Using the Right Label Printing Tools
There are several ways to print die-cut labels and the equipment that is required varies depending on the label you need. You will want to ensure you secure the proper piece of machinery to make the best labels for your particular line of work.
The first method uses direct thermal printing. This process applies heat to a chemically treated surface with a thermal printhead turning paper black where the heat is applied. You can also use a two-color printer to print in black and one additional color. The problem with this process is that the heat-sensitive material often gets dark with exposure to extra light or heat. This is commonly used for grocery and shipping labels, name tags, and short-lived barcode applications but oftentimes results in unscannable or unreadable labels. Although this process is cheaper, it is not used for longer-lasting applications like inventory control labels and asset tags.
The second, more stable method is called thermal transfer printing. This technique uses a ribbon that can print in black and color. These labels can handle chemical exposure and high temperatures, thus producing a higher quality product. Typically, thermal transfer printing results in labels with great scannability and uses recyclable materials, becoming a sustainable option, too.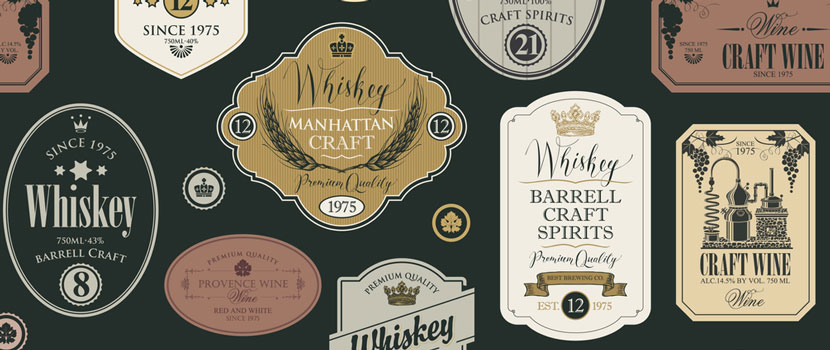 If You're Looking For Quality Labels, Avoid DIY
Although you can print your die-cut roll labels using a laser or inkjet printer, it is not wise to rely on this method. The labels you will get from a professional company with years of experience are far superior to anything you could print on your own. Experts like Royal Label offer guarantees on zero-defect printing. They also can produce large quantities of labels in a much shorter time frame than you can make them on your own. We have developed the best procedures using the latest top-of-the-line equipment to ensure the finest quality die-cut labels. DIY methods can't beat the Royal process.
Why Choose Royal Label Printing Co.?
Whether you are looking for standard die-cut labels in simple shapes or more elaborate designs that showcase your product or logo, Royal Label can meet your demand and exceed your expectations. Our custom die-cut labels are among the best in the industry, and our clients return to us due to our efficient quality printing and attention to detail. With a strong focus on customer service, we take your needs to heart and put the ultimate care into meeting your specifics.
We use the most innovative digital printing methods to produce a perfect digital label; whether you need tight registration, variable data, or multiple SKUs — our team is up to the task.
Royal Label is an industry leader in die-cut labels for the medical field. As a GMP-compliant company, we have had our label production audited by medical device and pharmaceutical companies like Philips and Baxter, Genzyme, and Johnson & Johnson. We excel in printing die-cut insert cards for medical devices, as well as all varieties of medical device label printing.
The labels we produce at Royal Label are all die-cut and printed with our state-of-the-art HP Indigo WS 6000 Digital Press. We focus on flexographic, and digital labels, that are designed with your needs in mind. From print labels for medical devices to retail applications, we can cover the specifics of your order on time. Since we specialize in short to medium runs, we can turn your order over in a matter of days, and we even offer a 24-hour turnaround service.
We are a family-owned business that understands your needs when time is of the essence. Regardless of whether the size of your order is 10 labels or one hundred, you can rest assured that our team will treat every customer order with the same diligence and keen eye for detail. Reach out to us today to find out how we can help your business grow.