The Importance of Printed Product Labels for Regulations, Marketing, Information & More
Royal Label
Why do we need labels on products? At first, the answer seems obvious – we need to know what the package contains. After all, without labels, retail stores, warehouses, and homes would be filled with packages of all shapes and sizes that do very little to reveal what is within.
Aside from the simplest of identification purposes, however, we'd like to suggest that consumer product label printing exists for two other main purposes – to market the product, and to display information required by the industry, state, or federal government. These two purposes can take on a variety of meanings depending on the business.
Label Designs for Ideal Marketing
Labels can be used for several different marketing purposes. For starters, companies use them to display their brand and promote the contents to a group of consumers. Many brands have developed unique packaging that allows customers to determine what the contents are before the label is even on the product. A great example of this is Pringles® potato chips, whose cylindrical can is recognizable across the globe. However, Pringles® and other companies still need to differentiate themselves from generic or store brands that might utilize the same packaging style. Labels do this by showcasing the company's logo and branding images.
Other times, the label is essential for identifying the type of product inside. For instance, cleaning products tend to come in bottles of similar sizes and shapes. The label, along with the branded logo, tells the consumer what is in the container. When labeling a product, be sure that the product description is clear and accessible on the packaging. This helps the customer to quickly find what they need among crowded store shelves.
When it comes to marketing, the most important function of custom product labeling is to help consumers identify your brand. Keeping a consistent logo, font, color scheme, and other packaging elements between products provides consistency across your company's selection. This helps consumers quickly identify your products. In particular, flexographic labels – which are printed directly on surfaces of many types – can help identify products even after a label would otherwise have worn off.
Product Labels Relay Important Information & Adhere to Regulations
Besides being able to visually identify your product, consumers also need to know the specifics regarding what makes up the product. Businesses across multiple industries are held to strict industry, state, and federal government regulations regarding the content, ingredients, active ingredients, warnings, and other pertinent information that must be displayed on a label. Failing to follow such rules can result in hefty fines for each range of products not in compliance.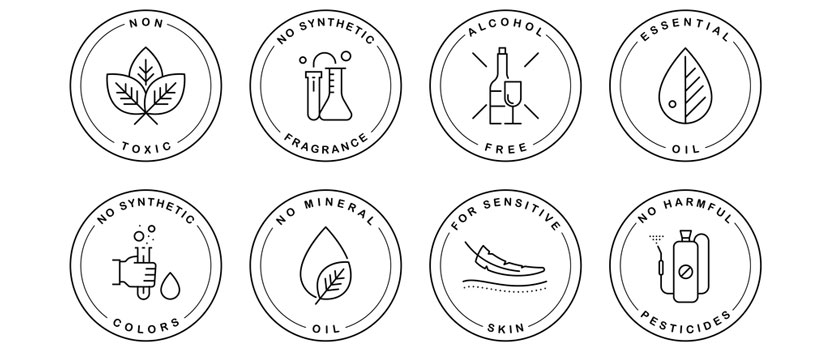 Household Product Label Printing Requirements
Chemicals, both on the industrial and household levels, must display ingredient and active ingredient information. Household cleaners often include a list of warnings and contraindications that must be displayed prominently on the packaging. Due to the nature of some of these products, companies need to use labels that can withstand heat, water, and outdoor conditions. That way, the label can communicate important information until the product is ready to be thrown away.
Food & Beverage Label Printing Requirements
The food industry also has strict labeling guidelines. Nutritional information must follow a very specific format and use a specific font size. Again, products may get wet or encounter hot or cold temperatures, so you'll need labels that can handle these conditions. Messaging also needs to be consistent from product to product to ensure accurate representation of the package's contents.
Cannabis Label Printing Requirements
The cannabis industry, in particular, is an up-and-coming market with very strict regulations regarding labeling. These cannabis label regulations include child safety and THC warning information. In this competitive market, both medical and recreational cannabis companies will need high-quality product labels to be a brand differentiator.
Where Can You Find A Quality Labeling Printing Company?
Regardless of your product or industry, the need for high-quality labels that speak to your brand's identity and provide accurate product information is clear. Royal Label's label printing service ensures that your products meet specifications before they're even on the shelves. Whether you're looking for traditional product labels, food labels, medical labels, or medical cannabis labels, Royal Label is your go-to source. We provide custom product labels of any kind with 0% defect and fast printing. No matter what the unique circumstances of your company's product set may be, we have a solution that can help.
Are you ready to explore how you market your brand more effectively, all while ensuring you stay within your industry's labeling regulations? Contact us today for more information or to place your order.