Everything You Need to Know About Printing Barcodes for Your Products
Royal Label
Barcodes make your business processes more efficient. Whether you're looking to track information about goods, store it, or both, barcodes can serve an important role in your daily operations. Barcodes have several advantages over manually entering or looking up information:
Barcodes help prevent errors. "To err is human," but errors with inventory can affect your bottom line. Barcodes help prevent human error and increase your accuracy.
Barcodes allow you to track inventory, which leads to lower overhead and more inventory control.
Barcodes are inexpensive to produce and design, providing a valuable return on investment compared to the cost of human error. They provide fast, reliable data for a wide range of applications.
Barcodes are extremely versatile and can be used for any data collection, not just price or inventory.
How Do You Create a Barcode for a Product?
Thankfully, printing and using UPC barcodes for your products is simple, but it does require following a few essential steps. We'll layout for you exactly how to print product barcodes so you can begin using them to positively impact your business.
Step 1: Apply for a GS1 Company Prefix
At this point, you may be asking yourself, "what is a GS1 product number?" GS1 stands for Global Standards One. Before your company can begin using barcodes, you must have assigned numbers that go inside the barcode, which are called GS1 identification keys. To obtain these, you apply for your company prefix from a GS1 member organization. A prefix allows you to create unique identification keys for the items, units, locations, coupons, parties, assets, and more. Currently, over 1.3 million companies worldwide use GS1 company prefixes as the basis for creating unique numbers to identify items within their supply chains.
GS1 barcodes are the standard for the industry and are mandatory for most online retailers. If, for example, you're wondering, "what kind of barcode do I need to sell on Amazon?" the answer is a GS1 barcode. Going to GS1 and filling out their application for a company prefix is one of the most important steps to barcode your products.
Step 2: Assign Each Product a Unique Number
After you receive your GS1 company prefix, you can begin to assign unique identification numbers to each of your trade items, locations, units, assets, or anything After you receive your GS1 company prefix, you can begin to assign unique identification numbers to each of your trade items, locations, units, assets, or anything else that you need to track. One of the most important things to remember is that each variation of a product that you sell will require its unique product number. If, for example, your company makes a pair of pants, but those pants come in 12 different sizes and three different colors, you have 36 different product variations for that product. You can estimate how many barcodes you will need using GS1's barcode estimator. Once you receive your company prefix, a member organization from GS1 can help you decide how many numbers you can assign based on the length of your prefix.
At this point, you may be thinking, "where do I get a UPC code for my product?" If you are using UPCs to identify products, then each one will have a unique Global Trade Item Number (GTIN). You create a GTIN by combining your prefix number with a product number that you assign, with a "check digit" on the end to ensure that the GTIN is created correctly. You can use your GTIN and UPC barcode anywhere in the world.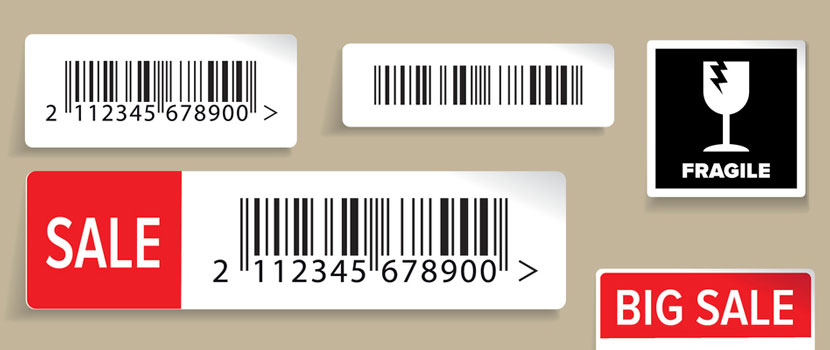 Step 3: Determine Features of Barcode
The next step in creating your universal product code and label is creating its features, such as placement, size, color, and adhesive. Some of the most common questions that people have regarding this step of the process include:
"How do I create a barcode for a product?" Once you have the GSI prefix and product number, you have everything you need to create your barcode! You will just need to determine where you want it placed on your shipment, its relative size, and color. A reputable digital label printing company can turn your barcodes into a reality.
"How do I know where to print digital labels?" The best label printing companies will have barcode generating software that ensures that your UPC barcodes and ISBN barcodes conform to applicable global standards.
"How large should my barcode be?" This is a matter of personal preference, but your barcode should be readily visible and available to your workers.
"How do I format the barcode text?" The text within your barcode should be easy to see in case a worker needs to enter the number manually, but there is no standard font or formatting. A barcode label printer can make sure that your barcode labels are legible and easy to use.
Step 4: Order the UPC/Barcode from a Reliable Label Printing Company
The final step in using a barcode is ordering them and getting them printed. Among the most common questions and concerns are:
"How much does a barcode cost?" This depends on the type of code you order, how many you need, and other factors. The most effective way to determine this is to research the best label printing company in Boston, MA, and request a quote.
"Where to order UPC barcodes?" Trust the team at Royal Label.
"Where do I buy product codes online?" There are several digital label printing companies in your area, but not all can create barcodes that comply with GS1 standards. Always do your research before choosing a barcode label printer for your UPC barcodes for products. Ideally, you will get the prefix and estimate the number of barcodes you need, and a printer will do the rest.
RRoyal Label will work with you to implement your GS1 barcode. We have certified GS1 barcode generating software along with scanning, grading, and reporting devices to ensure your GS1 barcodes comply with global standards. For more information about scheduling an audit of our facility or how we can help you meet your medical labeling needs, please call Marychristine Clifford at 1-617-825-6050 Ext. 105 or send an email to [email protected].